Warning: Javascript must be enabled to use all the features on this page!

Page Loading - Please Wait...
USGS 09041400 MUDDY CRK BLW WOLFORD MTN RESER. NR KREMMLING, CO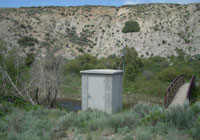 Station operated by the U.S. Geological Survey in cooperation with Colorado River Water Conservation District.
Current shift adjusted rating table.
What is a shift adjusted stage-discharge rating table?
This station managed by the Lakewood Field Office.
Summary of all available data for this site
Instantaneous-data availability statement
---
Create
presentation-quality
/
stand-alone
graph. Subscribe to
WaterAlert
Daily discharge, cubic feet per second -- statistics for Jul 30 based on 19 years of record more
Min
(2010)
25th
percen-
tile
Median
Mean
75th
percen-
tile
Max
(2000)
Most Recent
Instantaneous
Value Jul 30
20
27
56
62
83
183
190