Warning: Javascript must be enabled to use all the features on this page!

Page Loading - Please Wait...
USGS 09066325 GORE CREEK ABV RED SANDSTONE CREEK AT VAIL, CO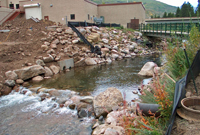 Station operated by the U.S. Geological Survey in cooperation with
Eagle River Water & Sanitation District
.
Current shift adjusted rating table.
What is a shift adjusted stage-discharge rating table?
This station managed by the Lakewood Field Office.
Summary of all available data for this site
Instantaneous-data availability statement
---
Create
presentation-quality
/
stand-alone
graph. Subscribe to
WaterAlert
Daily discharge, cubic feet per second -- statistics for Aug 2 based on 14 years of record more
Most Recent
Instantaneous
Value Aug 2
Min
(2002)
25th
percen-
tile
Median
Mean
75th
percen-
tile
Max
(2011)
-- unavailable --
18
43
61
73
103
194