USGS 06701620 TROUT CREEK BLW FERN CR NR WESTCREEK, CO.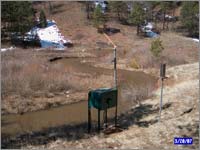 This site has been discontinued due to lack of funding as of October 1, 2021. Contact Greg Smith for more information at gsmith@usgs.gov.
Station operated by the U.S. Geological Survey in cooperation with Douglas County.
Current shift adjusted rating table.
What is a shift adjusted stage-discharge rating?
The Unit Value precipitation data for this station are temporary
and will only be displayed for 120 days. (
more information
)
This station managed by the Lakewood Field Office.
Summary of all available data for this site
Instantaneous-data availability statement
*** There are no data available on the Waterdata system for the time period specified,
although data may be available in the files of the local USGS office operating the station.