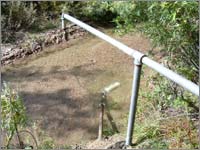 Station operated by the U.S. Geological Survey in cooperation with Plum Creek Water Reclamation Authority (PCWRA).
PLEASE NOTE: When first established, station was mistakenly named "below" Haskins Gulch. Station name was corrected in January 2008 to "above" Haskins Gulch. Gage has always been upstream from Haskins Gulch.
Current shift adjusted
rating table
.
What is a shift adjusted stage-discharge rating?