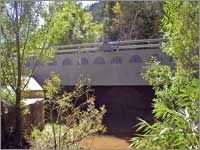 Data collection at this site will be discontinued October 31, 2020 due to funding reductions. Individuals concerned about the future of this gage should contact Krystal Brown with the USGS Colorado Water Science Center at (719 )562-2841, email: kbrown@usgs.gov.
Station operated by the U.S. Geological Survey in cooperation with Colorado Department of Transportation.
This site is operated seasonally, March through October only.
Current shift adjusted rating table.
What is a shift adjusted stage-discharge rating table?