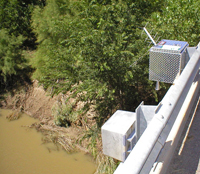 Station operated by the U.S. Geological Survey in cooperation with Southeastern Colorado Water Conservancy District
Due to a lack of appropriations this station is scheduled to be discontinued on October 1, 2023 if alternative funding cannot be secured. Please contact Krystal Brown (kbrown@usgs.gov) for more information.
Current shift adjusted rating table.
What is a shift adjusted stage-discharge rating table?