USGS 07134100 BIG SANDY CREEK NEAR LAMAR, CO.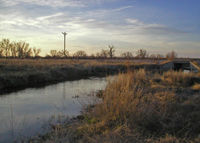 Station operated by the U.S. Geological Survey in cooperation with Arkansas River Compact.
Current shift adjusted rating table.
What is a shift adjusted stage-discharge rating table?
The Unit Value precipitation data for this station are temporary
and will only be displayed for 120 days. (
more information
)
This station managed by the Pueblo Southeast Colorado Office.
Summary of all available data for this site
Instantaneous-data availability statement
*** There are no data available on the Waterdata system for the time period specified,
although data may be available in the files of the local USGS office operating the station.