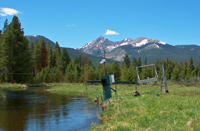 Station operated by the U.S. Geological Survey in cooperation with the Colorado River Water Conservation District and the Northern Colorado Water Conservancy District.

The Unit Value precipitation data for this station are temporary
and will only be displayed for 120 days. (
more information
)
Current shift adjusted rating table.
What is a shift adjusted stage-discharge rating table?