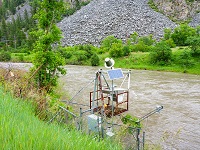 Site temporarily discontinued due to unsafe working conditions. Contact Steve Anders for more information at spanders@usgs.gov.
One or more sensors at this site are operated seasonally.
Station operated by the U.S. Geological Survey, Colorado Water Science Center, as part of the USGS National Streamflow Information Program (NSIP).
Current shift adjusted rating table.
What is a shift adjusted stage-discharge rating table?