USGS 09111250 COAL CREEK ABV MCCORMICK DTCH AT CRESTED BUTTE, CO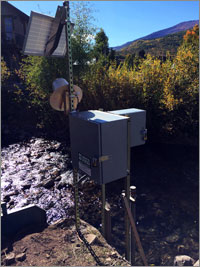 This site is operated seasonally, April 1st through November 15th only.
Station operated by the U.S. Geological Survey in cooperation with Upper Gunnison River Water Conservancy District and Town of Crested Butte.
Current shift adjusted rating table.
What is a shift adjusted stage-discharge rating table?
This station managed by the Grand Junction Field Office.
Summary of all available data for this site
Instantaneous-data availability statement
*** There are no data available on the Waterdata system for the time period specified,
although data may be available in the files of the local USGS office operating the station.