Funding for this site is provided by: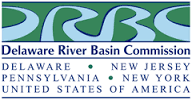 Delaware River Basin Commission
STATION.--01474703 DELAWARE RIVER AT FORT MIFFLIN AT PHILADELPHIA, PA
LOCATION.--Lat 39`52'45", long 75`12'11", Philadelphia County, Hydrologic Unit 02040202, on right bank at outer end of L-shaped pier at Fort Mifflin, 0.4 mi downstream from mouth of Schuylkill River, and at Philadelphia.
DRAINAGE AREA.--9,971 square miles.
PERIOD OF RECORD.--Water years 1970-76, 1981 to current year. SPECIFIC CONDUCTANCE: July 1970 to December 1971, February 1981 to current year. TEMPERATURE: June 1972 to June 1976, February 1981 to current year.
GAGE.--Water-quality monitor July 1970 to June 1976 and since Feb. 1981. Satellite telemetry at station.
COOPERATION.--Funding for the operation of this station is provided by the U.S Geological Survey.
This station managed by the PAWSC Downingtown Field Office.
Summary of all available data for this site
Instantaneous-data availability statement