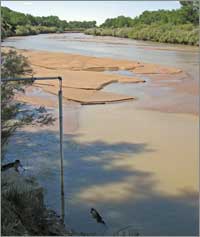 This streamflow gaging station currently is operated by the Colorado Division of Water Resources (DWR). The USGS works cooperatively with the DWR to publish daily mean (and annual peak) discharge data for this station. These are the only streamflow data available in NWISWeb for this site. The daily mean discharge values for this site are determined by summation of the daily mean discharges for two DWR sites,
Arkansas River at Catlin Dam near Fowler (ARKCATCO) and
Catlin Canal at Catlin Dam near Fowler (CATCANCO).
Current streamflow data (and other historical streamflow data) for these sites are available on the DWR Colorado's Surface Water Conditions pages, at the two links above.
Water temperature and specific conductance monitors at this station are operated by the U.S. Geological Survey in cooperation with Southeastern Colorado Water Conservancy District.