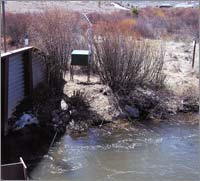 Water quality at this site is operated seasonally, May through September, with water temperature May through October only.
Station operated by the U.S. Geological Survey, Colorado Water Science Center, as part of the USGS Next Generation Water Observing System (NGWOS), in cooperation with East Grand Water Quality Board.
Current shift adjusted rating table.
What is a shift adjusted stage-discharge rating table?