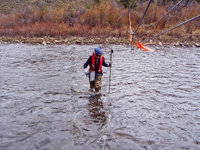 The discharge at this site is operated seasonally, May through October only. The water temperature is operated from June through September only.
Station operated by the U.S. Geological Survey in cooperation with Colorado River Water Conservation District.
Current shift adjusted rating table.
What is a shift adjusted stage-discharge rating table?