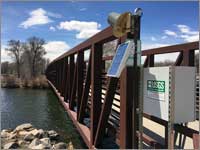 This site is operated seasonally, May 1st through September 30th only.
Station operated by the U.S. Geological Survey in cooperation with Upper Gunnison River Water Conservancy District .
Continuous water temperature data discontinued at this location on July 27, 2021. Water temperature, specific conductance, pH, dissolved oxygen, and turbidity data are now available at USGS site 09114500 Gunnison River near Gunnison, CO . Sensors operated seasonally, May 1 to Oct 31.
Current shift adjusted rating table.
What is a shift adjusted stage-discharge rating table?