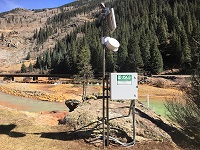 One or more sensors at this site are operated seasonally. Contact Steve Anders for more information at spanders@usgs.gov.
Station operated by the U.S. Geological Survey in cooperation with Southwestern Water Conservation District and The Colorado Department of Public Health and Environment.
Current shift adjusted rating table.
What is a shift adjusted stage-discharge rating table?